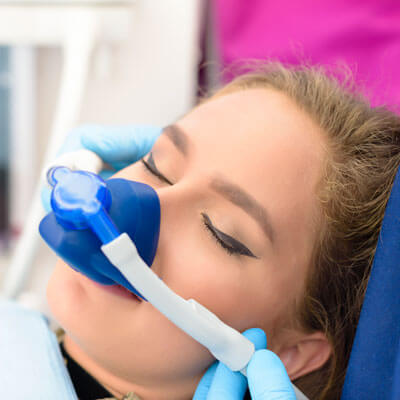 Sedation Dentistry in Torquay, Hervey Bay
We understand that visiting the dentist can sometimes be daunting–particularly when a procedure is involved. But dental visits shouldn't be scary; that's why we aim to put our patients at ease by creating a more relaxing environment. Our dentists are friendly; they'll talk you through your treatment in advance and provide sedation options where appropriate.
At Master Dental & Denture Centre, we utilise sedation for many of our treatments. Particularly where a patient is unusually anxious or the treatment will be uncomfortable, we'll provide sedation options to make the experience a little more comfortable.
NEW CLIENTS

Get Relief from Anxiety Inducing Treatments
For most treatments, sedation is not required–for instance with check-ups or cleaning. However if you're overly anxious, we can provide mild forms of sedation for these.
Sedation and anesthesia are usually reserved for procedures that have the possibility to cause some pain to the patient–for example root canals and tooth extraction. We try to avoid the use of sedation for minor procedures, because there are some risks associated with their use but for those with a phobia or increased anxiety, we realise it may be a necessity. Please be aware that the effects of sedation can last for quite some time after a procedure, so it's advised not to drive or operate heavy machinery for a little while afterwards. Your dentist will provide more information, prior to your treatment.
At Master Dental & Denture Centre, more than anything, we want you to achieve positive oral health, now and into the future. That's why we'll ensure you're prepared for the procedures you need–whether that's fillings, extractions, implants, or other treatments–by providing you with the necessary information and recommendation around our sedation techniques.
Depending on the procedure you're planning to undertake, we may recommend one of the following sedation methods:
Inhalation Sedation: For inhalation sedation, the patient is provided with a nitrous oxide gas that works to reduce sensitivity to pain and relieve anxiety. The duration of its effectiveness is designed to last the procedure and dissipate not long afterwards, enabling you to get back to your day sooner.
Oral Sedation: Oral sedation is provided to the patient in the form of a tablet or liquid prior to treatment–approximately one hour before. Its intended effect is to 'take the edge off' a little, reducing the patient's anxiety and discomfort.
Intravenous Sedation: For particular treatments, we may recommend intravenous sedation which involves injecting the sedative into the patient's arm, creating the sensation of relaxation. This method will leave you feeling drowsy for a while after the procedure, so it's important to prepare for this.
Learn More
To find out more about our sedation techniques, when they can be used, who will administer them and to better understand the effects; get in touch with our friendly team at Master Dental & Denture Centre. We're here for all your oral health needs including check-ups, cleaning, cosmetic dentistry and dentures.
CONTACT US

Sedation Dentistry Torquay, Hervey Bay, Urangan QLD | (07) 4124 8569