New Clients at Master Dental & Denture Centre
We look forward to welcoming you to Master Dental & Denture Centre. Please bring your health fund card to your first appointment, and plan on being with us for approximately 30 minutes.
Your First Visit
When you walk into our homey, comforting practice, our friendly reception staff will greet you and help you feel relaxed. Generally, you won't have to wait at all before seeing the dentist. Your dentist will come and take you into the exam room, and you'll be with him for the entire visit.
Your dentist will discuss your health history and any issues or concerns you may have. Then he'll do a comprehensive examination. Your dentist will talk with you about any problem areas that may require further treatment. If there are no issues, he'll proceed with a gentle clean and fluoride treatment.
If your examination reveals cavities or other issues that need treatment, we'll explain that to you and print out a recommended treatment plan for you, including costs. We will not pressure you to move forward with care, and we never lock clients into treatment plans. We simply explain our findings and leave it to you to decide how you wish to proceed.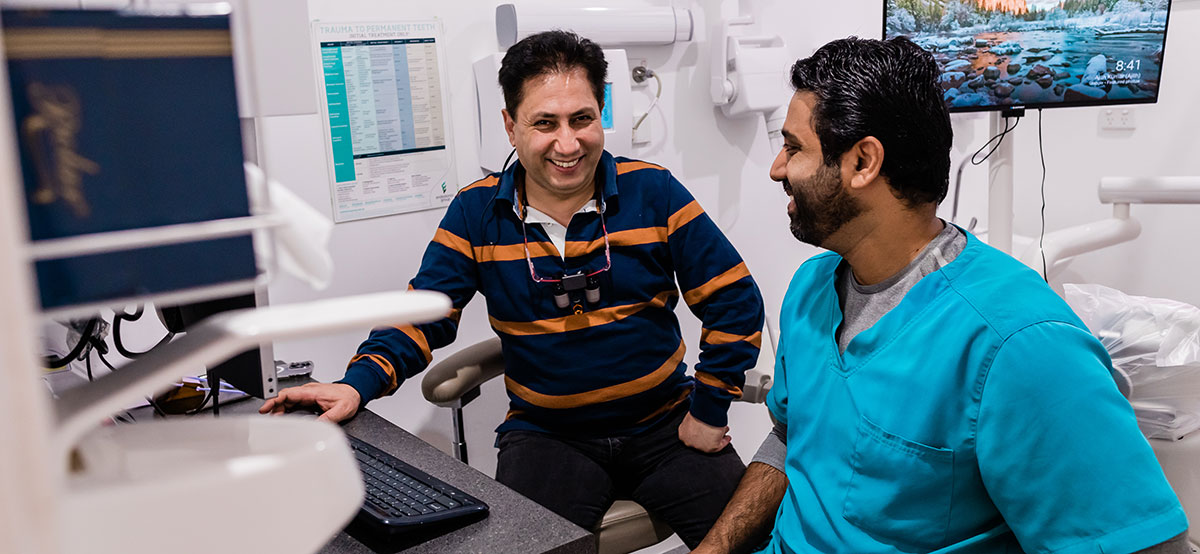 Other Services
Many of our clients come to us for cosmetic dentistry, including complete smile makeovers, or for dentures or root canal therapy. Whatever brings you into our practice, we will always begin with a consultation to ensure that we understand your needs and goals. We will also always conduct a thorough examination before commencing with any treatments.
Teeth must be "dentally fit" before we begin treatment. This means that any cavities, gum disease or other issues must be addressed before we can apply veneers, whitening agents or crowns. The overall health of your teeth and mouth is our primary concern.
This concern extends to emergency situations such as broken teeth or severe toothaches. Our phones are answered after hours and on weekends, and we can typically see emergency clients on the day that they call to book. We know that dental emergencies don't always occur during our regular hours, and we are committed to helping you get out of pain as quickly as possible.
Sedation Options
Visiting the dentist produces a great deal of anxiety in some clients, and we understand this. We have a soothing, relaxing atmosphere to help you feel more at ease. Our dentist is caring and compassionate, and will talk with you about sedation options that may be available to help make your visit with us as stress-free as possible. Our goal is to deliver an exceptional client experience to everyone who visits us.
Vacationing Clients
We are passionate about providing outstanding care for our Torquay community, including both locals and visitors to the area. Many clients come to us when a dental emergency occurs whilst they are vacationing here. In those cases, we will provide the care you need and then forward all X-rays and treatment records to your regular dentist for follow-up care upon your return home.
Book Today
Contact us today to schedule your first appointment. HICAPS claiming is available.
CONTACT US

New Clients at Master Dental & Denture Centre | (07) 4124 8569