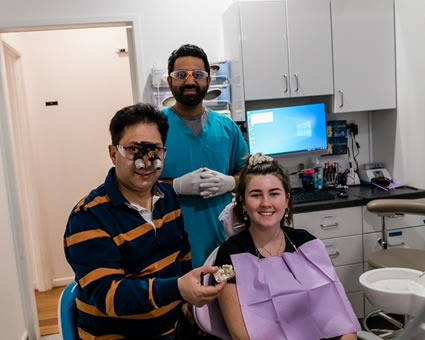 General Dentistry in Torquay,
Hervey Bay
Do you need a root canal treatment to get rid of a dead or infected tooth? Are you looking for a professional to extract a tooth that has been bothering you?
At Master Dental & Denture Centre, we are licensed, skilled and experienced in providing general dentistry services. We welcome patients from Hervey Bay & beyond and use modern equipment and the latest techniques to ensure optimal treatment of your teeth.
NEW PATIENTS

Our Services
We offer the following general dentistry services:
Children's Dentistry
Root Canal / Endodontic Treatment
How We Can Help
Wisdom Teeth Removal
The removal of wisdom teeth is one of the most common forms of extraction — but there are still far too many people that are happy to ignore the warnings their mouths are trying to give them. Almost everyone has wisdom teeth at the back of the jaw in each quadrant of the mouth, and these can become impacted if they struggle to erupt from the gums.
In many cases, they painlessly and easily erupt naturally over the course of your life — but if they are leading to bleeding gums or consistently causing pain and discomfort, it might be time to have at least one of the wisdom teeth removed.
Tooth Extractions
Is your tooth turned at a weird angle or decaying? Is it affecting your ability to chew and bite properly? If that is the case, a tooth extraction may be the right solution.
Our skilled dentists will assess your situation and decide if your tooth needs to be extracted. That might be for aesthetic or functional reasons, or as a way of preparing you for further orthodontic work.

General Dental Checkups
Sometimes, people can go for months without noticing a cavity or another dental health issue. By the time they feel pain, the problem has developed into something much worse.
We offer family-friendly dental check-ups designed to spot dental problems early and help you maintain a sparkling smile.
Tooth Fillings
If you feel pain when chewing or biting down on food, tooth filling might be the solution. The treatment starts with numbing your teeth so you don't feel any discomfort during the process. The dentist drills the tooth decay and adds a filling instead. That improves both the aesthetics and functionality of your tooth.

Children's Dentistry
We accept patients of all ages and enjoy helping children develop healthy habits. After all, maintaining proper oral hygiene practices from an early age can help prevent serious problems in later life.
Root Canal and Endodontic Treatment
Root canal treatment is a procedure that involves treating the infected or dying nerve of a tooth. Tooth trauma and deep decay are common causes of infected nerves. The treatment involves removing the damaged nerve, disinfecting the canal and saving the tooth by using a filling.
Accepting New & Existing Patients
At Master Dental & Denture Centre, we understand that some of our patients may feel a little apprehensive about visiting us. Phobias surrounding dentists and dental surgery are very common and can prevent people from getting the treatment they need.
As such, we're committed to creating a warm and relaxing environment to help support nervous patients and make their experience as pleasant as possible.
If you're feeling worried about your appointment, please ensure you highlight your concerns with your dentist. They will do everything they can to make you feel comfortable and make any necessary adjustments to your treatment plan.

General Dentistry Torquay, Hervey Bay, Urangan QLD | (07) 4124 8569